Eighty One Wellesley
Available for Lease
Location

Toronto, ON

Units

179 condos and 920 sq.ft retail space

Architect

Core Architects

Building Type

Concrete

Completion Date

2022

Property Type

Mixed Use

Share This
Project Timeline
July 2022
June 2022 Update
Overhead protection was dismantled. Interior work restarting now that labour strikes have finished.
June 2022
May 2022 Update
Brick work was finished on the north elevation, completing the exterior masonry. Last remaining precast panels were installed and alignment continues. Interior work continues, but with several key trades on strike - drywallers, tile, carpet and hardwood installers - progress has slowed considerably. Hopefully the strikes will end soon and production can ramp back up.
May 2022
April 2022 Update
Masonry on the north elevation continues. Interior work continues.
April 2022
March 2022 Update
Major milestones Tower Crane was dismantled and removed from the building. Pre-cast panels have all been installed.
March 2022
February 2022 Update
Balcony railings frame and glass continues being installed. Plumbing and electrical wiring continues throughout the building.
February 2022
January 2022 Update
Precast continues to be placed. Passenger elevators are being installed. Drywalling of suites continues.
January 2022
December 2021 Update
Concrete structure is now substantially complete. Views from the top!
November 2021
November 2021 Update
The final floor slab has now been poured with only one set of walls and the roof to complete. Work continues on both the exterior and interior of the building.
October 2021
October 2021 Update
We are approaching the top of the building with the 28th floor walls being worked on. At the same time, drywall installation has started on the lower floors.
September 2021
September 2021 Update
Brick work completed on east elevation. During September our forming contractor experienced a COVID outbreak amongst their crew. As a result, they were unable to work for the better part of two weeks. While no other trades were impacted directly, work was slowed substantially, especially while the crane operator was not on site.
August 2021
August 2021 Update
Brick work continues on east elevation. Windows and exterior doors continue to be installed as do interior steel studs.
August 2021
July 2021 Update
Brick work beginning on east elevation. Windows and precast continue being installed.
July 2021
June 2021 Update
Brick work complete on west elevation. Both car elevators now complete.
June 2021
May 2021 Update
Brick work is now underway. Precast panels continue to be installed.
May 2021
April 2021 Update
Windows are being installed. The scaffold system installed so that the masonry can begin.
April 2021
March 2021 Update
The Tower Crane has been raised again. Work continues above ground, below ground, and on the interior and exterior walls.
March 2021
February 2021 Update
In spite of a few days lost to -20 degree temperatures and snow, construction continues. Precast concrete is being hung, interior block walls are being placed, and installation of steel studs has commenced as well. The first car elevator is operational.
February 2021
January 2021 Update
Construction continues while all health and safety protocols, including those for COVID, continue to be followed. Installation of precast panels continues; west side of ground floor nears completion.
January 2021
December 2020 Update
Construction continues while all health and safety protocols, including those for COVID, continue to be followed.
November 2020
November 2020 Update
Above Ground: Double manhoists on site being finalized for use. Amenity area forming complete. Below Ground: First car elevator being finalized for use. Installation of block walls continues.
October 2020
October 2020 Update
Toronto Hydro finally completed energizing the building. Generator and Power Shack have now been removed. Hoist scheduled to be installed shortly.
September 2020
September 2020 Update
As we continue to build upwards, the tower crane has been raised once, and will be raised again shortly, to keep pace with construction. We are still waiting on Toronto Hydro to make their final connection to the building.
August 2020
August 2020 Update
Public Art has been installed on the overhead protection. Prepared by Toronto artist Andrew Owen, the art celebrates the diversity of the Church and Wellesley area. Work continues below grade - with car elevators being installed and the Hydro vault ready for connecting. Above ground slabs and walls continue to be poured.
July 2020
July 2020 Update
While continued hot weather slowed down production somewhat, good progress continues to be made above and below grade.
June 2020
June 2020 Update
Overhead protection has been installed. Keep an eye out for the public art - coming soon!
May 2020
May 2020 Update
Construction continues to progress as restrictions across the province are slowly being lifted. Above and below grade work continues to progress while maintaining all COVID protocols.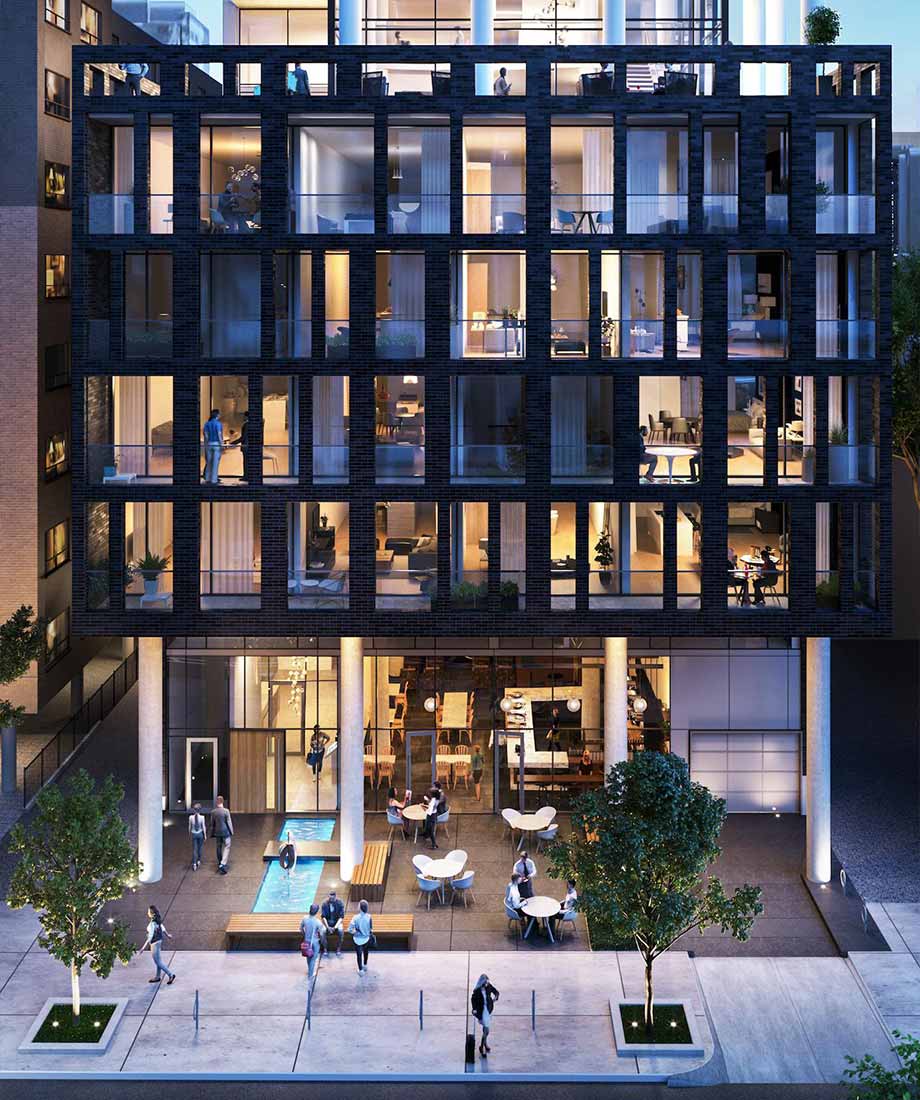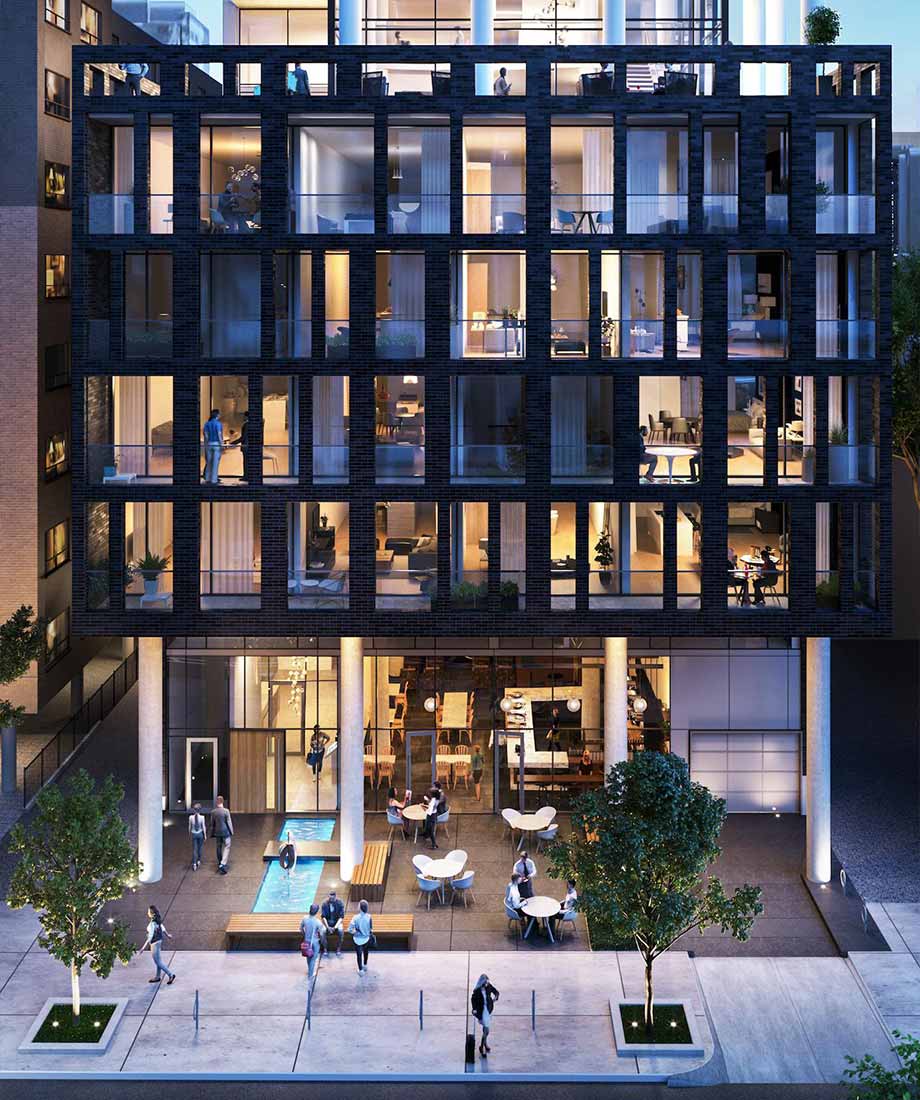 Rising 28 storeys above the Church-Wellesley Village in downtown Toronto, 81 Wellesley is a sophisticated addition to a vibrant neighbourhood. Outdoor and retail spaces were designed to encourage interaction, inviting people to slow down and spend time with neighbors and friends. We carried the mid-century modern aesthetic of the exterior architecture into the interiors, which are stylish yet unpretentious.